3/4/2014
At the recent 2014 Stifel Transportation and Logistics Conference, and the Food Shippers Annual Transportation Conference, I had some great discussions with industry experts. They highlighted three reasons carrier rates will rise in 2014:
1. Driver retention issues are causing a capacity crunch.
The Chairman of one large privately-held truckload carrier told me that the driver shortage issue is more serious than what is being reported in the press. He said the real issue is that the trucking industry is simply not attracting new drivers. As a result, carriers have to poach drivers from other carriers to keep their own fleets rolling. Add to that an aging driver population—the average age of truck drivers is 55 years according to the Bureau of Labor Statistics—and you have a better understanding of why it is critically important that the industry attracts new drivers.
According to this executive, the industry needs to increase driver pay. Right now, his experienced drivers make between $45,000 and $55,000 annually. He believes that within the next three years, professional drivers should be earning between $70,000 and $80,000. Obviously, carrier rates would have to be significantly higher to afford this level of increase.
He, along with many other senior trucking executives, recognizes that shippers are not willing to pay theses higher rates right now. But things could change when shippers find it difficult to find carriers to move their freight. If the truckload carriers exercise market discipline and focus on improving their operating ratios, shippers will pay more within the next two or three years or their freight won't get moved.
2. Carrier fleets are not expanding, adding to the capacity crunch.
At the Stifel Conference, several carriers mentioned that they have no plans to expand their fleets, but J.B. Hunt's presentation really got my attention. In disclosing their financial results and plans for the future, they projected flat growth for their truckload sector. Asked specifically about the company fleet, he responded, "No. We're not going to be expanding our fleet."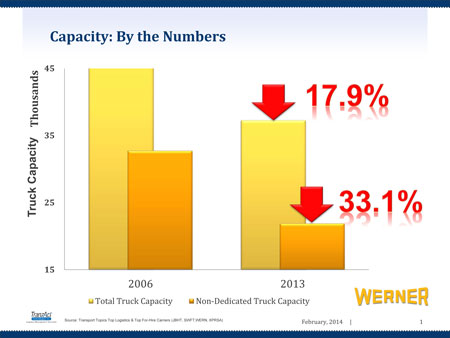 If you want real sobering facts that will help you understand what has happened in the trucking industry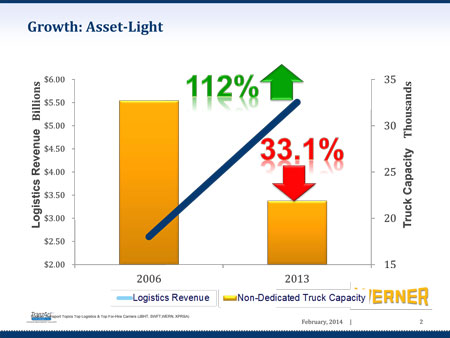 since 2006, look at the slides to the right that Derek Leathers from Werner Enterprises shared with the Food Shippers audience. It highlights the investment in fleets for Publicly Traded Carriers as well as their investment in asset light groups. Once again, if the carriers exercise market discipline, they will not significantly expand the size of their fleets until they can get the financial returns that would justify buying equipment. Add it all up and shippers will have to pay more to secure services when there is a shortage of trucks.
3. Brokerage firms' rate increases will mean higher spot market rates as well.
Shippers who rely on brokers to manage the gaps in their capacity also got a wakeup call at the Stifel Conference. Several individuals addressed the industry wide implications of C.H. Robinson's earnings call in late January, their statement that they will be focusing on long term financial targets, and their intent to deliver 7% to 12% EPS growth over the long term by increasing margins and reducing costs. Let's translate this: C.H. Robinson will be looking for margins instead of using pricing to capture market share. So, as the 800 pound gorilla, if C.H. Robinson follows through and actually increases their rates, you can expect other major brokerage firms to follow suit—which means higher rates in the spot market.
Guess what? That is exactly what has been occurring in 2014. Jeff Silver from Coyote Logistics was a member of the panel that I moderated at the Food Shippers Conference. Jeff highlighted that he had never seen a January and February like 2014. Jeff's comments were echoed by several other members of the attendees I talked to at the conference. When you hear these types of comments from individuals with twenty to thirty years of industry experience, it gets your attention. It was particularly interesting when one sage industry veteran talked about the impact of carriers "auctioning" their equipment to move freight for shippers. An auction environment means rates will go up if we continue to have a sellers' market.
What will you do with this information?
Finally, Peter Burke, another member of our panel at Food Shippers, offered some great advice. Shippers need to be sharing these types of articles with their Senior Executives, so they have a better understanding of the transportation marketplace and how it could impact the bottom line for their companies. So why not copy this post and pass it along? Perhaps it will come in handy when those executives review your budget.
This article was found at: www.logisticsmgmt.com/article/three_reasons_carrier_rates_will_rise_in_2014